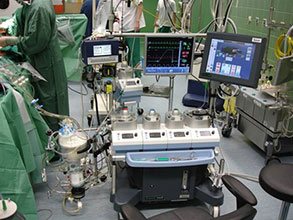 «Terumo Europe Cardiovascular Systems» is one of the directions of concern «Terumo Corporation» Japan, including a wide group of innovative products and technologies of treatment of cardiovascular diseases.
Key production and research platforms are concentrated in Japan and the United States. Closed production cycle, continuous innovation are key to the highest quality and uncompromising safety for patients.
For more information, visit the official website of the manufacturer: terumo-europe.com
Kandia LLC offeres following Terumo technologies and products:
Oxygenators FX (with Integrated Arterial Filter)
Oxygenators RX
Hybrid circuit Technologies ROCsafe®RX
Cardioplegia Sets
Heart-lung machine Terumo Advanced Perfusion System 1
Blood Parameter Monitoring System CDI500
Hemoconcentrators
Cannulaes and catheters for cardiac surgery
Endoscopic Vein Harvesting System VirtuoSaph™
Cardiopulmonary bypass (CPB) tubing
Technical service and support of Terumo cardiovascular equipment 24/7 is provided by experts certified by the company manufacturer.
Service, Product Manager
Ielizev Arthur
+380 50 384 6973