Anoscope medium with straight (top) and oblique (bottom) cut non-sterile (blue handle)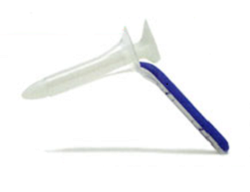 THD anoscopes are designed to perform diagnostic examinations or interventions in polyclinic conditions where sterility is not necessary. Each anoscope is packaged in a convenient package. These endoscopes are made from polycarbonate. High quality of this material provides extreme transparency, atraumatic, durability and ergonomics of this product. Anoscope is tapered and does not have sharp edges. Optimum visibility and illumination are provided by the patented combination with the THD SL lighting device and adaptation to other light sources.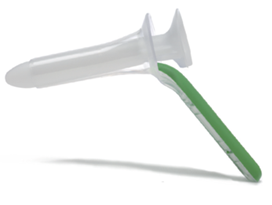 Anoscope large with a straight (top) and oblique (bottom) cut non-sterile (green handle)
Anal mirror THD SURGY MAXI STERILE is a multifunctional tool for various applications in proctology. Its compact design provides easy access to the anal canal, followed by good dilatation and careful stretching of the mucous membrane without trauma to the sphincter muscles. The wide lateral window helps to optimize the visualization of the anal canal to increase the surgical site.
Thanks to the asymmetrical design, the anus is stretched laterally, which keeps the mucosa from prolapse into the anoscope.
The THD SURGY MAXI STERILE anal mirror is made of high-quality transparent plastic for medical devices and designed to be connected to the illuminator through a specially designed curved tip (ref.880004).

THD SURGY MAXI STERILE is the optimal device for all diagnostic and operational needs of proctology, such as examination and treatment of the following proctologic diseases: hemorrhoids, fissures, condylomas, polyps, cancer of the lower ampullary rectum, etc.

THD SURGY MAXI STERILE anal mirrors are packaged in separate sterile disposable packaging.

CHARACTERISTICS AND COMPOSITION

· Made of plastic for medical products. Complies with the ISO 10993 biocompatibility standard.

· Each anal mirror is packaged in a separate disposable packaging. Sterilized with ethylene oxide.

· Supplied in a functional dispenser box containing 8 anoscopes.

· Designed and manufactured in Italy.

Code:

800005: THD SURGY MAXI (handle color: white)

Length: 122mm Width: 27.5mm

Hole size: 85x30mm

Code:

800004: THD SURGY MINI (handle color: gray)

Length: 122mm Width: 22 mm

Hole size: 85x26мм

THD SURGY MAXI / MINI STERILE complies with EU Directive 93/42 / EEC on medical devices.