THD Spoon-Anal is a compression surgical hemostatic sterile sponge, which is absorbed and made of highly purified neutral gelatin material for proctological operations. THD Spon-Anal is used for proctological interventions, when there is no possibility or there is difficulty in applying standard hemostatic measures, or when another absorbent material does not meet the requirements for this hemostasis. Anal spon THD Spon-Anal absorbs about 40-50 times its weight and fits tightly to the bleeding site. The unique porosity of the sponge THD Spon-Anal guarantees reliable hemostasis!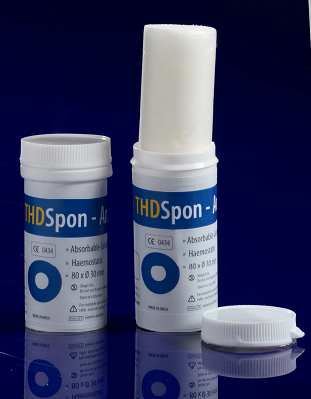 THD SPON-ANAL is non-toxic, non-allergenic, pyrogen-free anal sponen, which meets the requirements for biocompatibility in accordance with ISO 10993.
Specifikations and Compositions

Dimensions:

Ø 30мм × 80мм

Composition:

Purified neutral gelatin material for cardiac operations.
Each box contains 20 individually packaged sterile anal spons. THD Spon-Anal.
THD SPON-ANAL Complies with Medical Device Directive 93/42 / EEC