VIMS presents the most advanced surgical imaging solutions - ENDOVIMS, ARTHROVIMS.
High quality 4K, 6K, 7K high definition images take visualization to a whole new level.
A modern design, compact system and intuitive user interface will provide the surgeon with comfortable work.
Specifications
Ultra HD: 3780p (7K standard),
3240p (6K standard), screen size: 43,
2160p (4K standard), screen size: 32
- All-in-One concept
- LED light source (60,000 hours resource)
- Contactless interface for managing the functions of the surgeon's endovideo system
- The ability to organize video conferencing or video broadcasts by providing symmetrical high quality HD video over the Internet
- Record pictures and videos to a USB storage device
- Outputs for additional monitors
Innovative sterile concept
The use of a sterile EndoVcover case seals the laparoscope (arthroscope), which provides a sterile barrier between the patient and the camera system.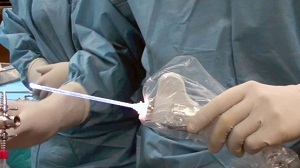 HEAD OFFICE
Tel.: +380 44 246 92 99